Self-Service – How to Unlock Your Smartcard
IMPORTANT – You must ALREADY be registered for Smartcard Self Service in order to carry out this process. If you are not already registered please see the Assisted Smartcard Unlock process where your Sponsor or Local Smartcard Administrator (LSA) can unlock your smartcard.
For Information: The Smartcard Service Centre can be accessed by clicking HERE or the full address is https://uim.national.ncrs.nhs.uk/selfservicewebapp/unlockCardStart It is recommended you favourite/bookmark the link for future use if not done so already.
PROCESS STEPS – Self Service Unlock Smartcard
Insert your smartcard into the reader. When prompted for your PIN, click on the "NO" or "CANCEL" option to close the login prompt.
Go to the Smartcard Service Centre in Internet Explorer. (Do not use Google Chrome) Read the information on the page and click on the Start button.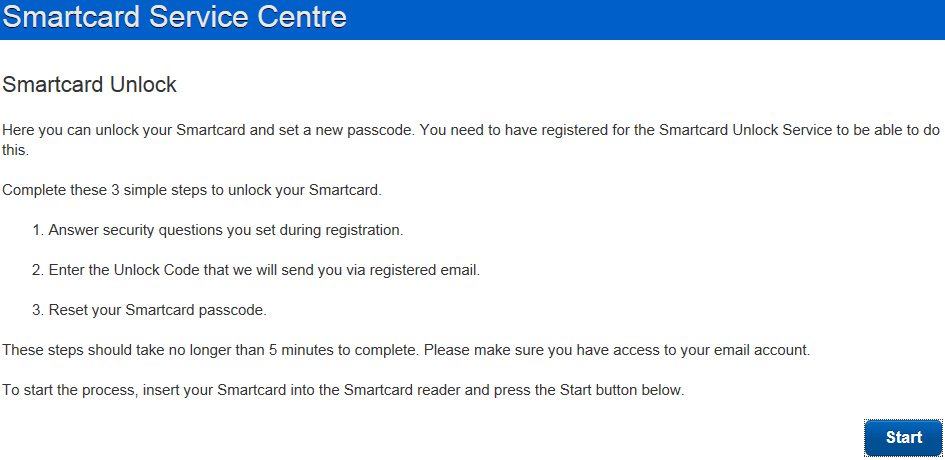 The system will identify your smartcard and ask you to answer TWO of your security questions which you set up when you registered. Answer the questions then click the Next button. (After three failed attempts to answer the questions it will not be possible to proceed)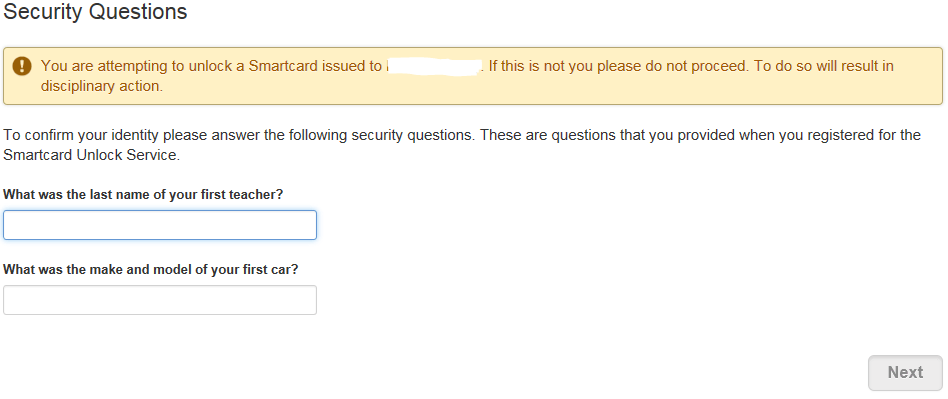 An Unlock Code will be sent to your registered email address within a few seconds which is valid for 15 minutes. Remember to check your Junk/Spam folder in case the email is flagged as spam. On the Smartcard Unlock Code screen, enter the code from your email into the field then click Next.

The Reset Smartcard Passcode screen will now allow you to set your choice of new PIN. Enter your new PIN in both fields then click the Confirm button. If you are prompted to with a security warning, click the Accept/Allow/Run button otherwise it will fail.

The smartcard should now be unlocked. Remove the smartcard and re-insert to authenticate.

END
Did this article help you? Please click the green button below if it did.