This process describes how a smartcard Sponsor can remove smartcard access from one of their users. It is important to always remove access from a user when it is no longer required – this ensures access to patient information is restricted and appropriate.
A detailed downloadable PDF version of this process is also available. Please scroll down the page to the end of this process for the download link.
PROCESS STEPS – Remove Smartcard Access
This process must be carried out by a Sponsor.  The user's 12 digit smartcard UUID (best option) may be required in order to search for their profile in Care Identity Service. A search by NI number or name can be done but a name search may return too many results. Alternatively a Sponsor can view assigned users to find user details.
Log in to Care Identity Service (CIS) using the appropriate role profile which has been set up with Sponsor access ensuring you select the organisation/ODS code which you will be removing access from if you are a Sponsor in multiple organisations.
From the CIS Dashboard, enter the user's 12 digit UUID (best option), name or NI number into the search field and click Search or press Enter.


From the results page, click on the UUID blue underlined link against the person's name.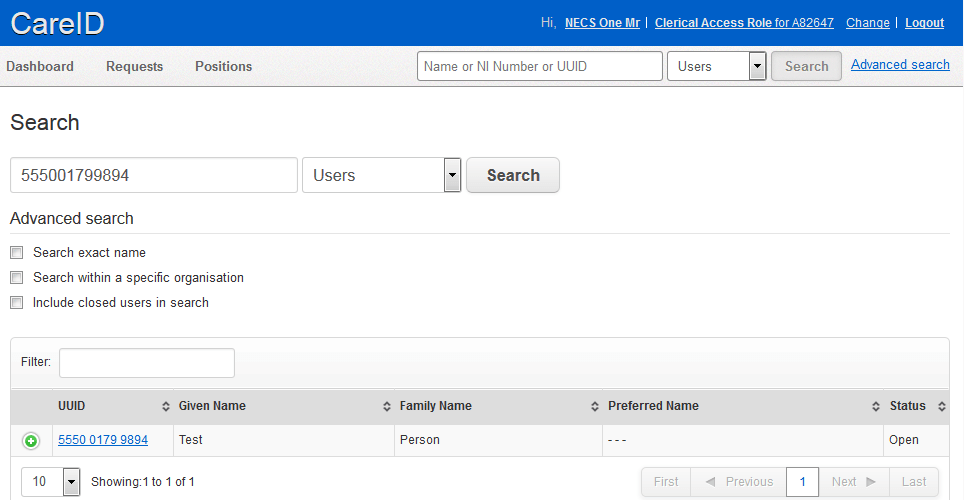 This will then display the user's profile page including their photograph and the access positions they have at any other organisations.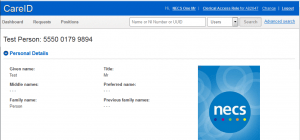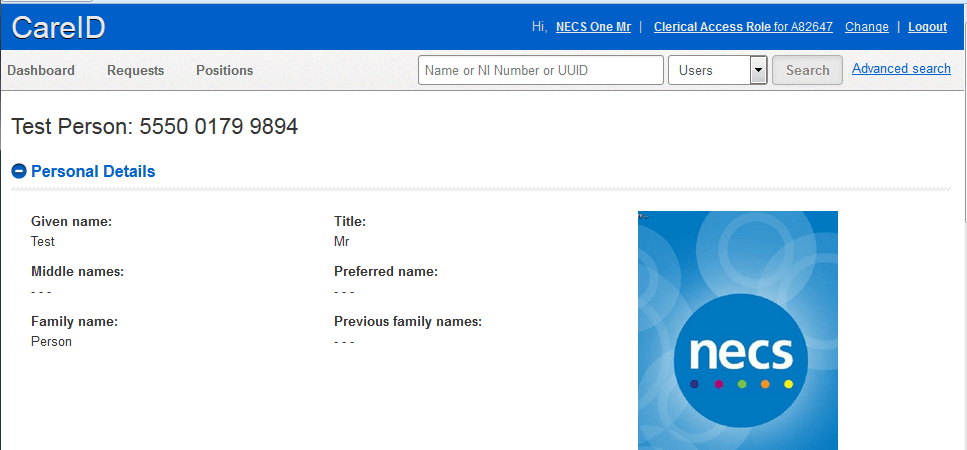 Scroll down to the Position Assignment Details section. Check/verify that the user currently has access to your own organisation. Now click on the Modify Position Assignment button.

On the next screen, click "Raise request to assign position" at the left hand side (yes you are still removing access!). For organisations authorised to directly assign please select Directly Assignable Position. This should display any current access positions the user has in your own organisation. Now click on the "dustbin" icon at the right hand side. The Status should update to "pending removal"

Now click on the blue SUBMIT button at the bottom right of the screen. The request will now be submitted to the Registration Authority for review and action. (If Directly Assignable the position will be removed immediately) Please Note – only the Registration Authority can remove a Sponsor position from a user. Contact us via the NECS Service Desk to remove Sponsor access from a user.
END
Download PDF Version – CIS PROCESS Sponsor Submit Request to Assign or Unassign Position
Download PDF Version – CIS PROCESS Sponsor Directly Assign or Unassign Position
Did this article help you? Please click the green button below if it did.