About Registration, ID Checks & Photo
Registration for a NHS Smatcard must take place in a face to face meeting with either an RA Manager, RA Agent or ID Checker. The smartcard management system – Care Identity Service (CIS) – now enables organisations to have a nominated ID Checker(s) to facilitate registration on-site, meaning new smartcard applicants do not need to visit the Registration Authority.
Identification Requirements
The documents that can be used to verify an identity have been jointly determined by NHS Digital and NHS Employers and the list is contained in the NHS Employers 'Identity Checks' standard which can currently be found HERE.
NO OTHER  identity documents are approved for verification of identity, including those contained within other NHS Employers standards.
The NHS Employment Check Standards apply to all applicants for NHS positions (prospective employees) and staff in ongoing NHS employment. This includes permanent staff, staff on fixed-term contracts, temporary staff, volunteers, students, trainees, contractors and highly mobile staff supplied by an agency. For the purpose of NHS Smartcard Registration – photocopies of ID document do not need to be taken.
The Care Identity Service application enforces a new user's identification to be verified to e-GIF Level 3 before a NHS Smartcard can be issued to that user. Failure to comply with the NHS Employment Check standards could potentially put the safety, and even the lives, of patients, staff and the public at risk.
The vast majority of new smartcard applicants must supply the required three forms of ID from a standard approved list (extract from NHS Employers Identity Checks Standard) which can be downloaded/printed on an A4 sheet HERE [Word Document] if required or is listed below.
The new applicant should usually present either two forms of photo ID and one proof of address OR one form of photo ID and two proofs of address.
Acceptable photographic personal identification
Full, signed UK (Channel Islands, Isle of Man or Irish) passport or EU/other nationalities passport
UK Biometric Residence Permit (BRP) card
UK full or provisional photocard driving licence
EU/other nationalities photocard driving licence (valid up to 12 months up to the date of when the individual entered the UK and providing that the person checking is confident that non-UK photocard driving licences are bona fide).
HM Armed Forces Identity card (UK)
Identity cards carrying the PASS (Proof of Age Standards Scheme) accreditation logo (UK and Channel Islands). Organisational identity cards are not acceptable as they do not contain watermarks, holograms or other security markings.
Acceptable confirmation of address documents
Utility bill (gas, water, electricity or landline telephone ONLY), or a letter from a utility supplier confirming the arrangement to pay for the services at a fixed address on pre-payment terms. More than one utility bill may be accepted, if these are from two different suppliers. Utility bills in joint names are also acceptable (UK)*
Local authority tax statement. For example, a council tax statement (UK and Channel Islands)**
UK full or provisional photocard driving licence if not already presented as a form of personal photographic identity.
Full old-style paper driving licences (that were issued before the photocard was introduced in 1998 and where they remain current and in date). Old-style paper provisional driving licences should not be accepted.
HM Revenue & Customs tax notification (HMRC) tax notification such as an assessment, statement of account, notice of coding**  NOT a P45 or P60
A financial statement such as bank, building society, or credit card statement* (UK and EEA). Statements issued outside of the EEA must not be accepted. More than one financial statement may be accepted if they are from two different organisations.
Credit union statement (UK)*
Mortgage statement from a recognised lender** (UK and EEA). Statements issued outside of the EEA must not be accepted.
Local council rent card or tenancy agreement*
Evidence of entitlement to Department for Work and Pensions benefits, such as child allowance, pension etc. (UK)**
Confirmation from an electoral register that a person of that name lives at the claimed address**
*  All documents must be dated within the last six months
** All documents must be dated within the last 12 months.
Not denoted: this means that the document can be more than 12 months old.
Struggling with valid ID Documents?
Where a new smartcard applicant is unable to provide items from the above standard approved list, has no photo ID or is a 16-19 year old with limited ID documents please contact the Registration Authority for guidance –  an ID Checker SHOULD NOT attempt to register the new applicant without first consulting the Registration Authority.
DOWNLOAD – ID Requirements for New Smartcard Applicants Standard List (printable A4 sheet)
DOWNLOAD – NHS Employers 'Identity Checks' Standard (from nhsemployers.org)
Applicant Photograph
The photograph assigned to a smartcard user's profile in Care Identity Service and it turn, printed on the physical smartcard must adhere to passport style standards and be taken at the time of registration by the ID Checker against a plain background with adequate lighting. It should be cropped to match the diagram below.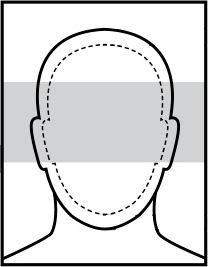 For further information and to view some example photographs of what is and is not acceptable, please see the Home Office Photo Requirements here.
Tips when taking photographs:
Hold the camera landscape-wise rather than portrait
Take the photograph against a plain light coloured (white) background where possible
Get relatively close to the new applicant so that head, shoulders and top of chest are in shot
Ensure good lighting with no shadows over face or reflections in clear lens glasses (if worn)
Ensure the image file is "large" or "actual size" when transferred from the phone/camera to the computer
No selfies, no filters, no photos/scans of a photograph, no images the new user might want to send to you.
Any questions? Contact the Registration Authority.
Did this article help you? Please click the green button below if it did.