NECS iPhone – Non-Compliant iPhone?
Some NECS iPhone users may receive an update to their device which installs a lock screen alert advising that the device is not compliant with NECS mobile device management security policies or the iPhone needs to be updated.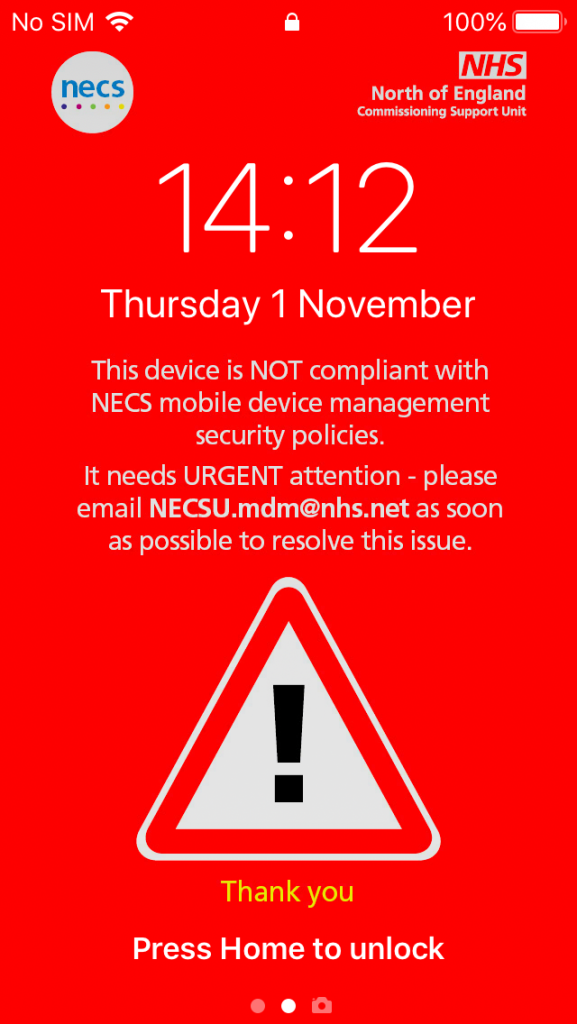 Read on below to see how you may be able to resolve this issue yourself – failure to update the iPhone in a timely manner may result in it being disabled
The most likely reason a device will receive this alert is that it is not up to date with the latest Apple iOS operating system. NECS are obliged to ensure that all devices are kept up to date to maintain our Cyber Essentials Plus Award.  Devices must be updated within two weeks of a release by Apple.
Can I resolve this myself?
YES – On the phone tap Settings > General > Software Update. The device will check for any available updates. If an update is available tap Download & Install or Install. NOTE: You must be connected to good strong WiFi in order to download the update file. It may take a long time or fail to download the update file on a slow WiFi connection such as Public WiFi – strong/reliable WiFi recommended eg. home WiFi if possible. The phone should be charged to over 50% or be plugged in when updating.
If the screen shows "Update Requested" for a very long time eg. hours/days, please see this article for help.
Follow any on screen prompts such as entering your PIN if requested.
The device will reboot and install the update.
The lock screen alert should be automatically removed from the device within approximately 72 hours. If not, please email NECSU.mdm@nhs.net if the lock screen alert is still visible after this time.
My Device is Already Up to Date?
Verify the device is up to date in Settings > General > Software Update again. It should say "Your software is up to date".
If the device does show as up to date it may not have reported its status to the Sophos MDM server at NECS. Tap the Sophos Control app

then tap Corporate Management then tap Synchronize Now .
If the Sophos app fails to load correctly or there is an error when tapping "Synchronize Now" please see this article for help in resolving this yourself or contact the Service Desk on 0300 555 0340.